North Wales is a popular place to visit as a family and if you are thinking of visiting, or have booked a visit and are wondering how to entertain the kids, then this list of some of the best family days out in North Wales has you covered.
If you've booked a visit to North Wales, and want to get your family itinerary planned, you need look no further than these top five things to do in North Wales with kids. Chosen from a long list of potentials, these five will suit families of all ages and budgets.
Days out in North Wales can range from sunny days on the sweeping beaches of Anglesey to the adrenaline-fuelled attractions of the slate quarries in Blaenau Ffestiniog! There's plenty to keep everybody happy without having to drive too far or spend too much money.
Most of the family attractions in North Wales in this article also allow you to bring your own snacks and picnics, whilst also having on-site catering for those that would rather eat out.
Top Five Family Days Out In North Wales
Zip World/Zip Fforest
Located in three sites across North Wales (with a fourth in South Wales), Zip World is famous for its use of the North Wales landscape's abandoned quarries and mines and is one of the best adventure things to do in North Wales for families.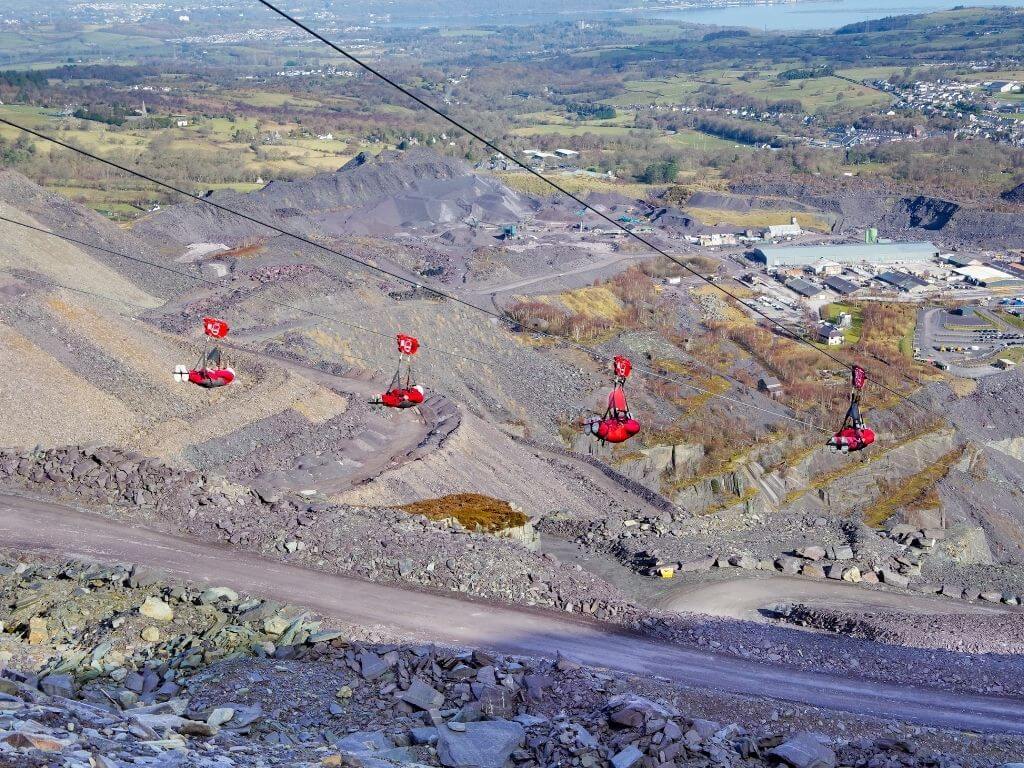 The sites in Bethesda, Blaenau Ffestiniog and Betws-y-Coed play host to 14 different activities including:
Velocity 2, the world's fastest zip wire
Fforest Coaster
Quarry Karts
Skyride 2
Deep Mine Tour and
the underground trampolines of Bounce Below.
This is often seen as a day out for the adrenaline junkie, but there is something for everyone, particularly at the Zip Fforest site in Betws-y-Coed.
Each of the sites has a café and toilet facilities and plenty of free parking. There are even doggy daycares for you to book your dog into at the Bethesda and Blaenau Ffestiniog sites!
Address: Zip Fforest, A470, Betws-y-Coed, LL24 0HX, and Penrhyn Quarry, Bethesda, LL57 4YG, and Slate Caverns, Blaenau Ffestiniog, LL41 3NB
Welsh Mountain Zoo
Opened in 1963 by the naturalist Robert Jackson and his family, the Welsh Mountain Zoo remains an incredibly popular attraction for families. Still in its original location on 37 acres of sweeping landscape on a hill at the back of Colwyn Bay, you can often hear the sea lions and monkeys from down in the town centre!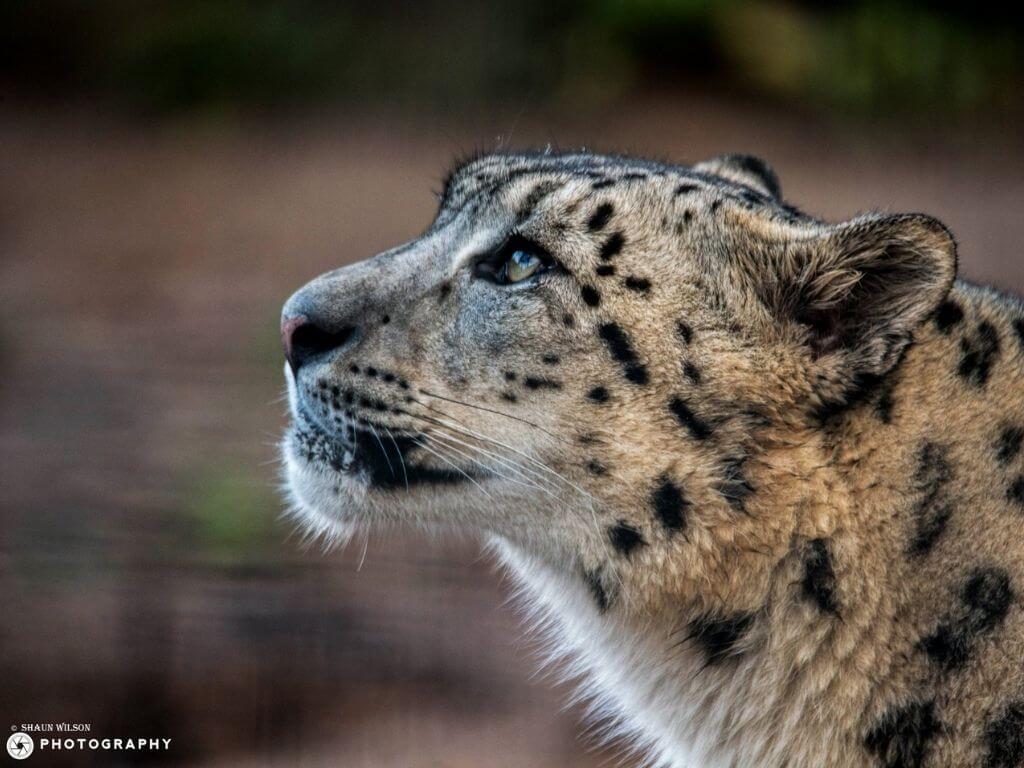 The zoo plays host to over 140 species of animal, reptiles, amphibians and birds, with popular attractions being:
the chimpanzee house
the sea lions and
the two resident alligators, Victoria and Albert!
Other favourites include:
a walk-through lemur house
the daily Humboldt penguin walk
bird of prey demonstrations
the tigers and
snow leopards.
There really is something for everyone, with a large play park and zip wires, ice cream parlours and two restaurants, as well as the always popular souvenir shop! So, if you are looking for one of the best days out with kids North Wales has to offer animal fans, head to the Welsh Mountain Zoo.
Address: Welsh Mountain Zoo, Old Highway, Colwyn Bay, Conwy, LL28 5UY
Bodnant Gardens
Owned by the National Trust and located in Tal-y-Cafn at the head of the Conwy Valley, Bodnant Gardens has long been a popular destination for those looking for family things to do in North Wales. Famous for its vibrant laburnum arch, which featured in the recent film adaptation of The Secret Garden, the gardens are filled with colours and textures on trees, bushes, and flowers.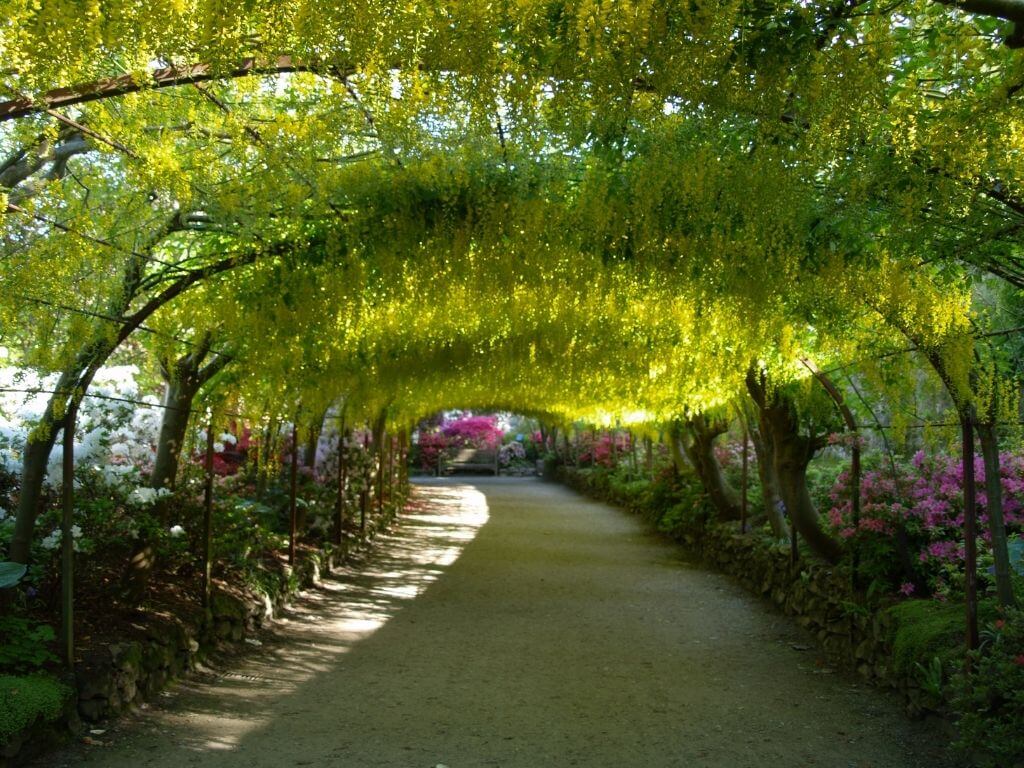 If you're looking for a day out in North Wales, Bodnant is a wonderful place for all ages with stunning gardens, an array of ponds and streams running through the gardens, lots of open spaces to run and benches to sit and enjoy the views.
And of course, you can make repeat visits across the year and see a totally different garden each time due to the variety of plants and trees! It's definitely worth a visit in late May as the laburnum arch comes into full bloom. The terraced gardens change throughout the year and there is a beautiful winter garden.
Bodnant has three cafes: the Pavilion and Magnolia tearooms are near the entrance, with The Dell kiosk situated down in the valley in the gardens, where they sometimes offer marshmallow toasting on a firepit during the colder months!
Address: Tal-y-Cafn, near Colwyn Bay, Conwy, LL28 5RE
Greenwood Family Park
Greenwood Family Park is set in the heart of Snowdonia and is a family fun park aimed primarily at families with children aged between 2-12 years. It remains one of the most popular North Wales attractions for families and plays host to rides, playgrounds, activity trails, eateries, picnic areas and live shows during school holidays.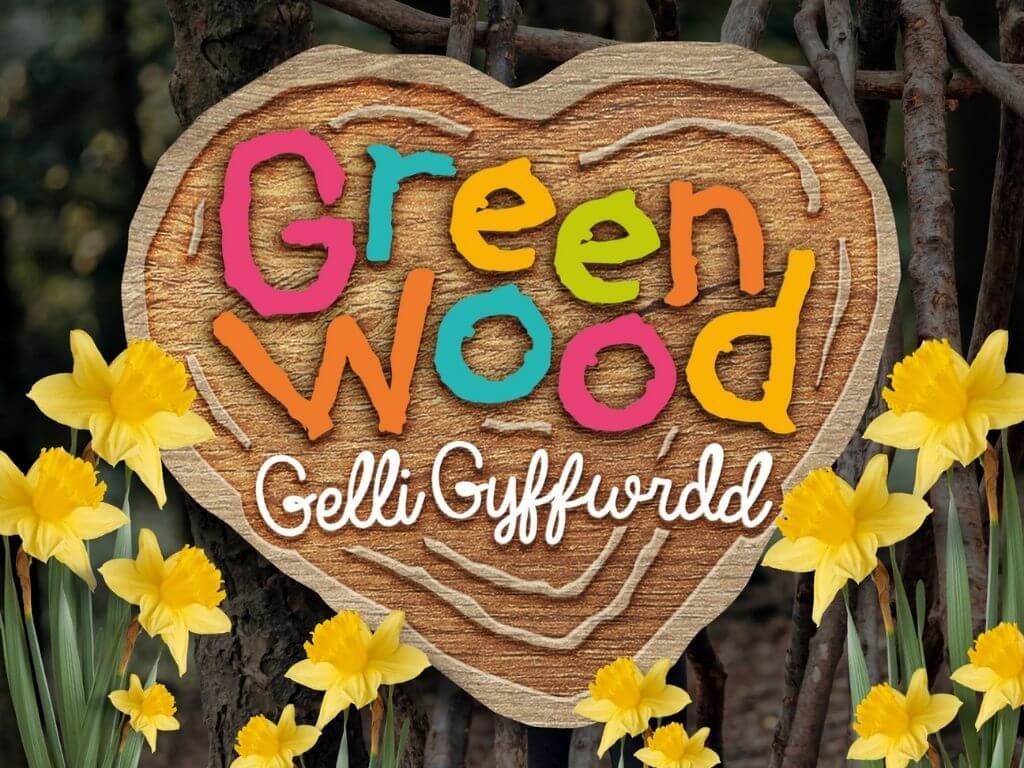 Two ride highlights are the Solar Splash, which is the UK's only solar-powered water ride, and the world's first people-powered rollercoaster, the Green Dragon Rollercoaster. The rollercoaster uses old slate quarry funicular technology when the lift takes riders from the top of the queueing area down to the start of the coaster. As the lift descends, the coaster carriages rise up the hill ready for the riders. When it runs at full capacity, the rollercoaster even sends electricity to the National Grid!
All 70 metres of the Great Green Run are guaranteed to get you laughing as your sledge races down the hill! And on the Barefoot Trail, you'll experience all manner of sensory delights between your toes!
The park has a variety of catering, across snack bars, the Woodbarn Cafe, and self-catered picnic areas. Arguably one of the best kids days out in North Wales, Greenwood has it all.
Address: Bush Rd, Y Felinheli LL56 4QN, although the Park encourages you to input LL55 3AD into your SatNav and then follow the brown tourist signs for Greenwood. This is due to a very narrow access road if you use the park's actual postcode.
Anglesey Sea Zoo
Combining the best of aquariums and marine research and education, Anglesey Sea Zoo makes for a wonderful family day out in North Wales. Besides the varied tanks full of species such as:
octopus
lobster
jellyfish
conger eels
seahorses
crabs
starfish
and plenty of fish
the Sea Zoo ticket also includes unlimited returns in the six days following your initial visit. With a seahorse breeding programme and hosting the Lobster Hatchery of Wales, the Sea Zoo has something for the young conservationist as well.
Address: Brynsiencyn, Llanfairpwll, Anglesey, LL61 6TQ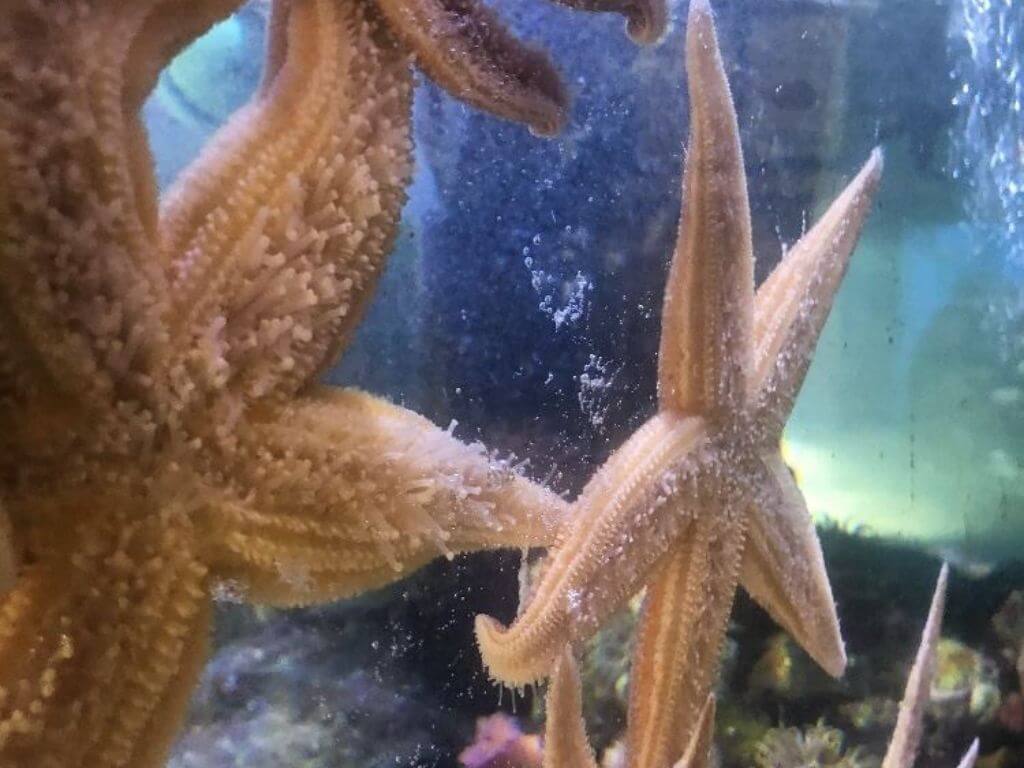 There are so many potential family days out in North Wales, but these should whet your appetite, whatever the age of your children. While it's famous for its coastline, beaches and mountains, North Wales has so much to offer so why not start planning your trip today!