If you are planning to visit the Llyn Peninsula in North Wales, then you will be surrounded by some of the most amazing coastline Wales has to offer. And with that comes sand and beaches. In this post, discover the best Llyn peninsula beaches that the kids will simply love.
If you've ever been to North Wales, you'll probably have visited some of the best Llyn Peninsula beaches and will already know how beautiful they are. If you haven't, you're in for a treat!
The Llyn Peninsula is the finger-shaped piece of land jutting out into the Irish Sea, just to the left of Snowdonia on a map.
Home to many beaches along its 100-mile coastline, the Llyn has every variety of beach that you could hope for:
Long and sandy
Small coves hidden away
Dog-friendly
Swimmable water
Paddleboarder heaven
Family-friendly
Watersports friendly
Close to parking
Let's have a look at some amazing examples of the beaches on the Llyn!
What Are The 5 Best Llyn Peninsula Beaches?
To be completely honest, your opinion on the best Llyn Peninsula beach is likely to be swayed by your reason for going there!
Many of the beaches are wide and shallow with the tide leaving some sand to enjoy even when it comes in. The shallow beaches mean that even smaller children are safe to play in the shallows and there will often be large pools of water left behind to play in when the tide has gone out.
If you're a paddleboarder, your choice will likely be different from the family with very small children. Or if you're not a fan of dogs then you might not want to visit the dog-friendly beaches on our list.
If you're a surfer then we definitely have a couple of fabulous beaches for you! Please note that none of the beaches on the Llyn Peninsula has lifeguards.
I'm going to show you my favourite five beaches that cover a few of those bases. I've also made a note of the dog-friendly beaches on the Llyn Peninsula.
Porth Iago
Located on the north coast, down towards the end of the peninsula, Porth Iago is a gem of a sandy cove, hidden away behind Ty Mawr Farm.
You need to pay and display to park on the farm's private land so make sure you have coins, as there isn't an option to pay digitally, and the machine doesn't take notes. The beach is a short scramble down through grassy sand dunes from the car park.
Of all the Llyn Peninsula beaches, Porth Iago is a beautiful, sheltered bay that makes it a great place to set up for the day, with plenty of the beach being above the high tide line and the cove sheltered from most winds.
Family-friendly, dog-friendly all year round, sandy, swimmable water, paddleboarder heaven, parking close by, sheltered cove.
Location: Porth Iago, Rhoshirwaun, Gwynedd, LL53 8LP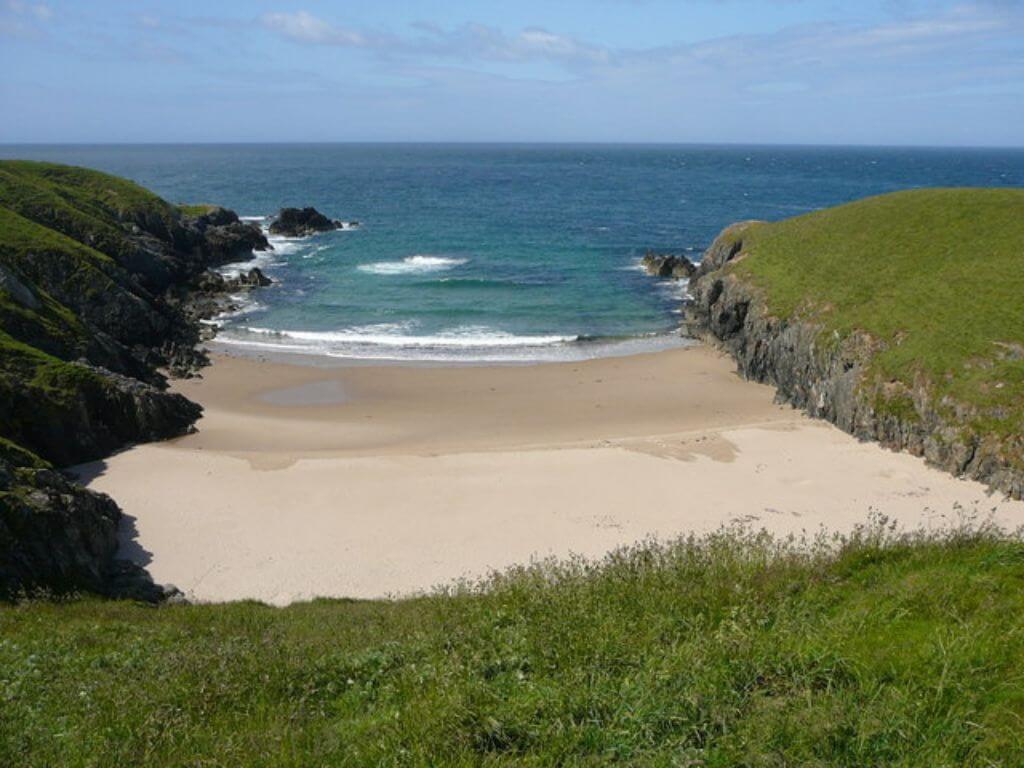 Porth Ceiriad
Just beyond the village of Abersoch, you'll find Porth Ceiriad. Owned by the National Trust, it's a sheltered beach and one of the Llyn Peninsula's best beaches for families, watersports, and sunbathers. Parking is a 15 to 20-minute walk away and it's a steep walk down to the beach on arrival.
Porth Ceiriad is a south-facing beach meaning the sun lingers all day. There are rock pools scattered around the beach which are great for children to explore. This beach is often much quieter than those around it due to the walk from the parking, making it a wonderful escape, especially during the busy summer months.
Family-friendly, dog-friendly all year, long and sandy, swimmable water, paddleboarder heaven, watersports-friendly.
Location: Porth Ceiriad, Bwlchtocyn, Abersoch LL53 7BY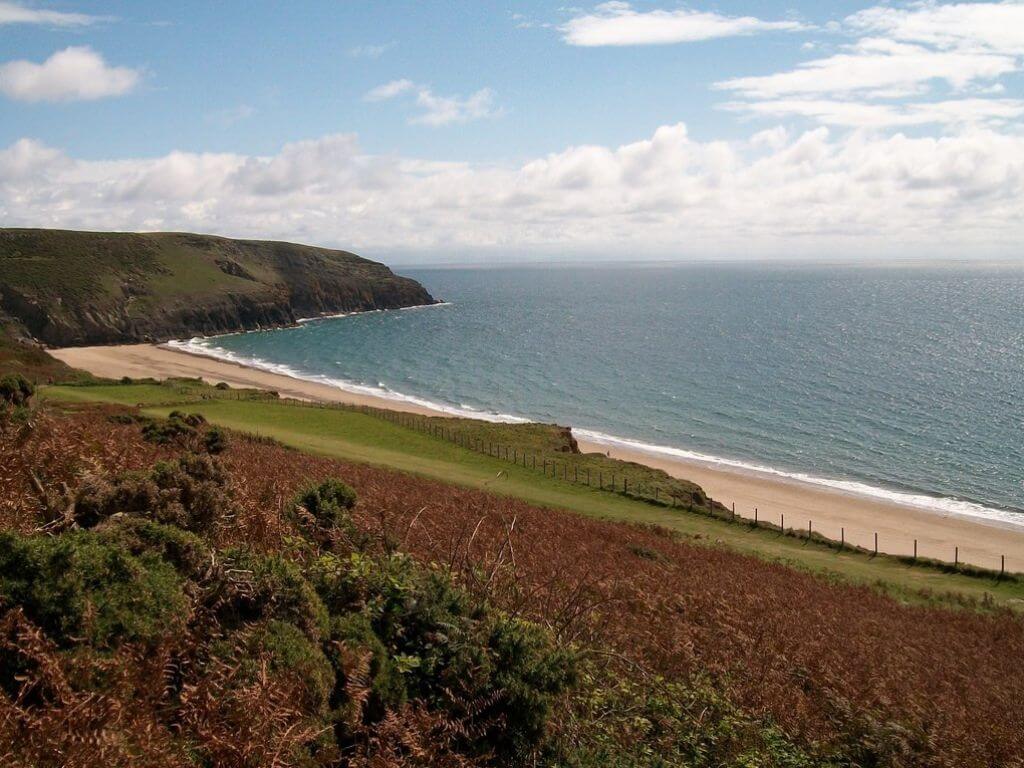 Traeth Porthor/Porth Oer (Whistling Sands)
Famous for its sand which 'whistles' or squeaks as you walk on it, due to the unique shape of the sand particles, Porthor is well-liked by visitors. It's also popular with surfers due to the south-westerly facing beach bringing in good waves.
With a small car park close by (get there early!) and a lovely little café just off the beach, the wide-mouthed sandy bay is a favourite with families.
We recommend that you get the Pay-by-Phone app so you can avoid the queue at the payment hut on arrival. The road from the car park to the beach is a little steep so those who are unsteady on their feet might need some support.
Dog-friendly from 1st October to 31st March only, family-friendly, long and sandy, swimmable water, paddleboarder heaven, parking close by, watersports-friendly.
Location: Traeth Porthor, Aberdaron, Pwllheli LL53 8LG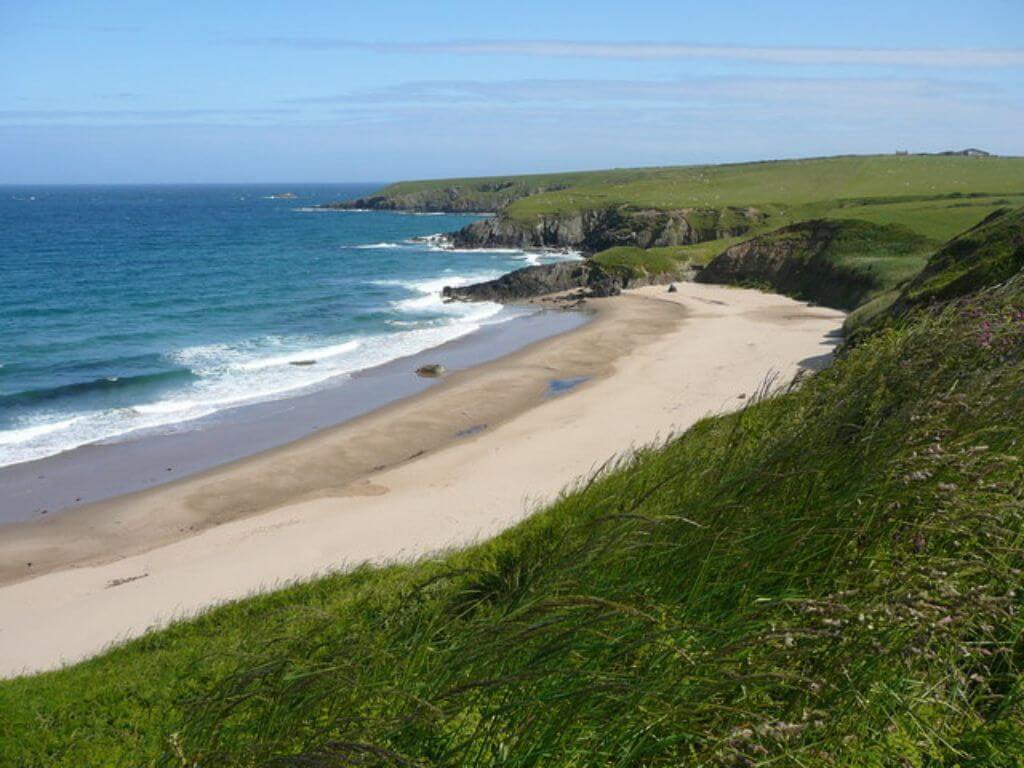 Traeth Criccieth (Criccieth Eastern Beach)
Criccieth's eastern beach is long but pebbly and there are lots of little cafes around the promenade area. You'll also be in the shadow of Criccieth Castle – the ruined castle built on the rocky peninsula in between the eastern and western beaches, one of the best castles near Snowdonia to visit.
The eastern beach is a striking accompaniment to the promenade, which stretches along the beachfront from Cadwaladers Ice Cream shop to Dylan's Seafood Restaurant. Along with the eateries, ample parking and changing/toilet facilities, it's a truly family-friendly location.
Dog-friendly from 1st October to 31st March only at the eastern end, family-friendly, swimmable water, paddleboarder heaven, parking close by, watersports-friendly.
Location: Criccieth Traeth y Promenade, Criccieth, LL52 0HP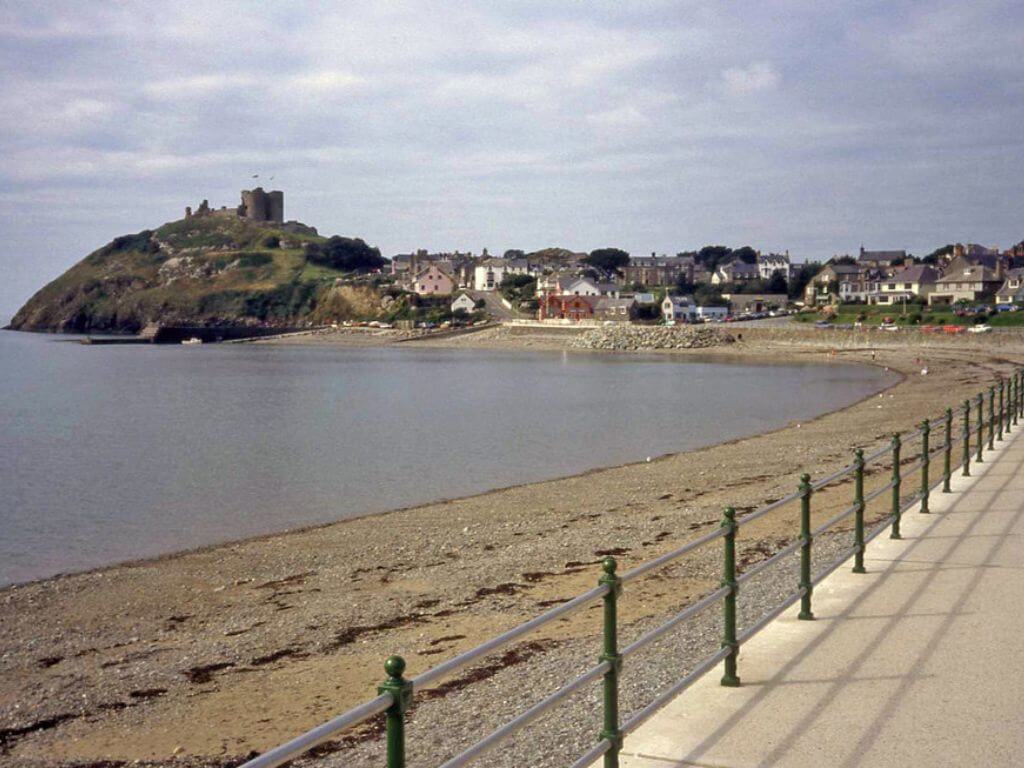 Porth Neigwl (Hell's Mouth)
Porth Neigwl is one of the best beaches on Llyn Peninsula for surfers and they travel for miles to get to the beach on a day when the waves are good! It's a fabulous sandy beach that's also popular with families and is dog-friendly all year round.
It's important to note that the beach faces the open Atlantic Ocean, hence its name Hell's Mouth. The geography that makes it a surfer's haven, also means the waves are big and can be brutal!
Dog-friendly all year round on one section of the beach, family-friendly, long and sandy, parking close by, watersports/paddleboarder-friendly/swimmable dependent on the conditions.
Location: Porth Neigwl, Abersoch, LL53 7LG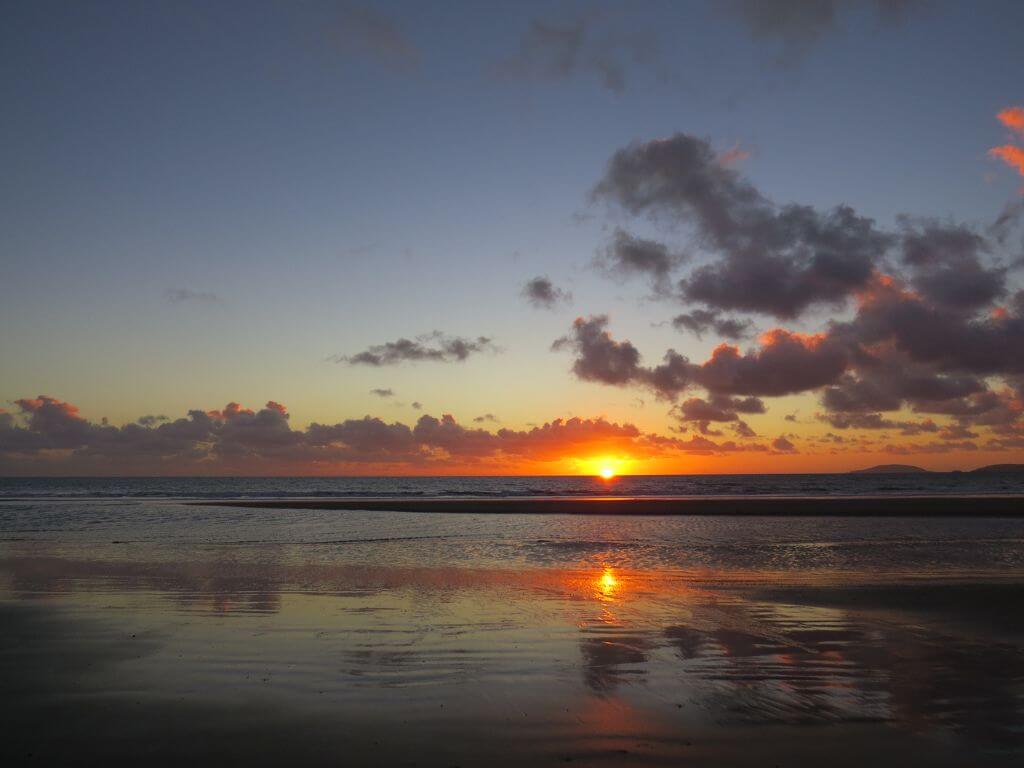 What Are The Best Beaches On The Llyn Peninsula?
You've heard what I think are the best five beaches on the Llyn, so now I'd love to hear yours! Are you a family of paddleboarders that love the sound of Porth Iago? Or do you prefer to laze in the sunshine with your book? Try Porth Ceiriad!
Maybe you visited the Llyn Peninsula as a child, or perhaps you've recently discovered it. Where do you love to take your family? Let me know!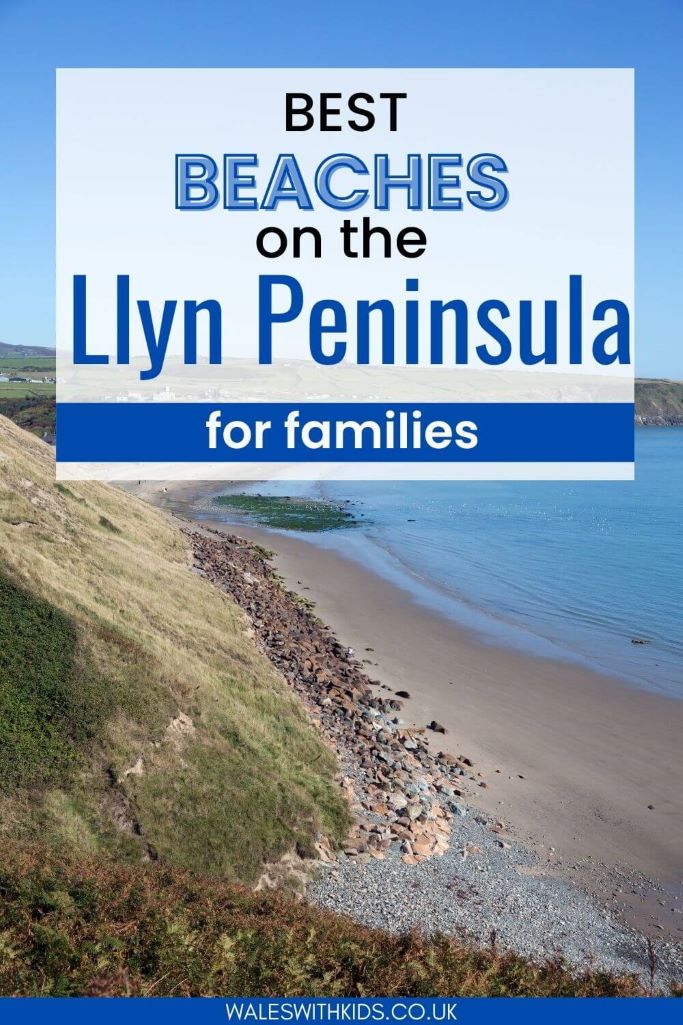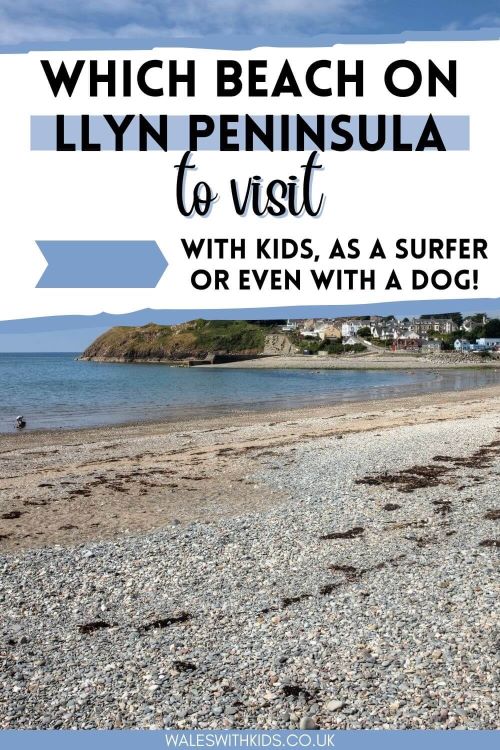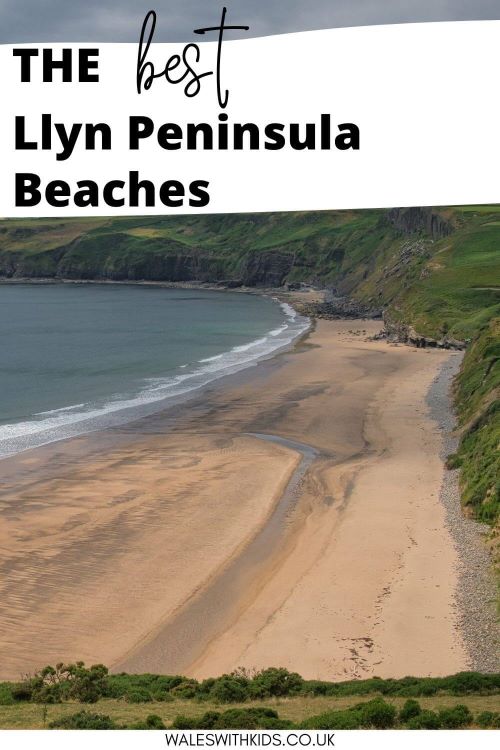 Related Posts