If you are going to be visiting North Wales and are looking for some family-friendly things to do in Snowdonia, then visiting one of the many castles with your little knights and princesses is one option. Find our pick of the best castles in Snowdonia for families here to give you some ideas of where to plan your castle day out in North Wales.
You'll be spoilt for choice when you're deciding on which castles in Snowdonia to visit! In fact, you'll probably want to extend your stay to visit all 11 key castles within Snowdonia National Park. And that's before we even look at castles around North Wales…
There are 427 castles scattered across Wales, of which around 200 have been preserved. Many of these castles were built because of feuding between the English and Welsh. You can find a wealth of information online about so many of the castles and their history, but I've chosen my top 5, with a further 5 deserving an honourable mention.
My Top Five Castles In Snowdonia For Families
Conwy Castle
Built in the late 13th century under the oversight of King Edward I, Conwy Castle forms part of the town walls which are considered to be the best example of a walled town in the UK.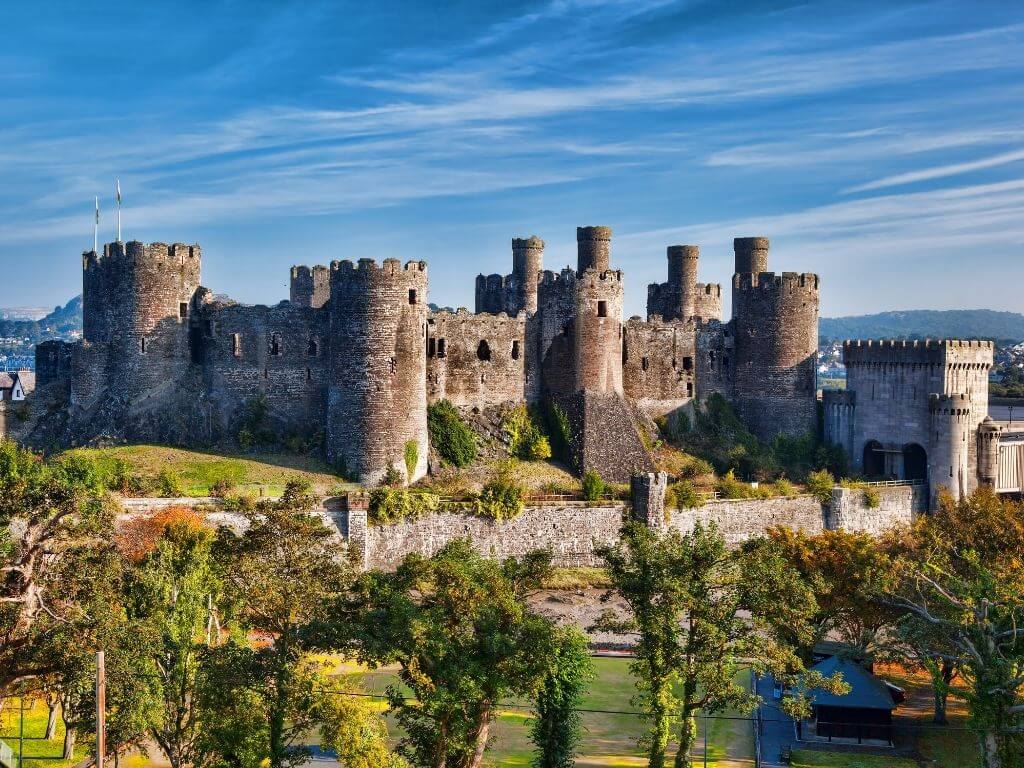 The castle and wall ruins are a fabulous place for children (and grown-up children!) to run and explore, hide and play, dream and imagine. There are nooks to hide in, archer's loopholes to keep watch through, and a deep, deep well to peer into! You can even go dragon hunting in this castle. Get your knights and princesses ready to take on any Welsh dragons that might be lurking in the nooks and crannies of this great Welsh castle.
Although not technically within the boundary of the Snowdonia National Park, Conwy's walled town is seen as the northern gateway of the National Park and is considered to be a key castle in Snowdonia.
Conwy is definitely one of the best places to visit in Snowdonia, with the castle, 1.4km ring of walls, eateries, galleries, and its famous Quay, home to the Smallest House in Great Britain.
Considered one of the finest examples of late 13th and early 14th-century military architecture in Europe, along with Harlech, Beaumaris, and Caernarfon, it is no wonder this site has made it onto the list of UNESCO World Heritage Sites in Wales as part of "Edward's Castles". If you are looking for a great family day out in Snowdonia, then make sure to add Conwy and its impressive castle to your list.
Address: Conwy Castle, Rose Hill Street, Conwy, LL32 8AY
Dolwyddelan Castle
Dolwyddelan Castle, Snowdonia is thought to be the birthplace of Llewelyn The Great, one of the kings of Gwynedd and later of Wales, though the majority of the current castle was built by Llewelyn himself.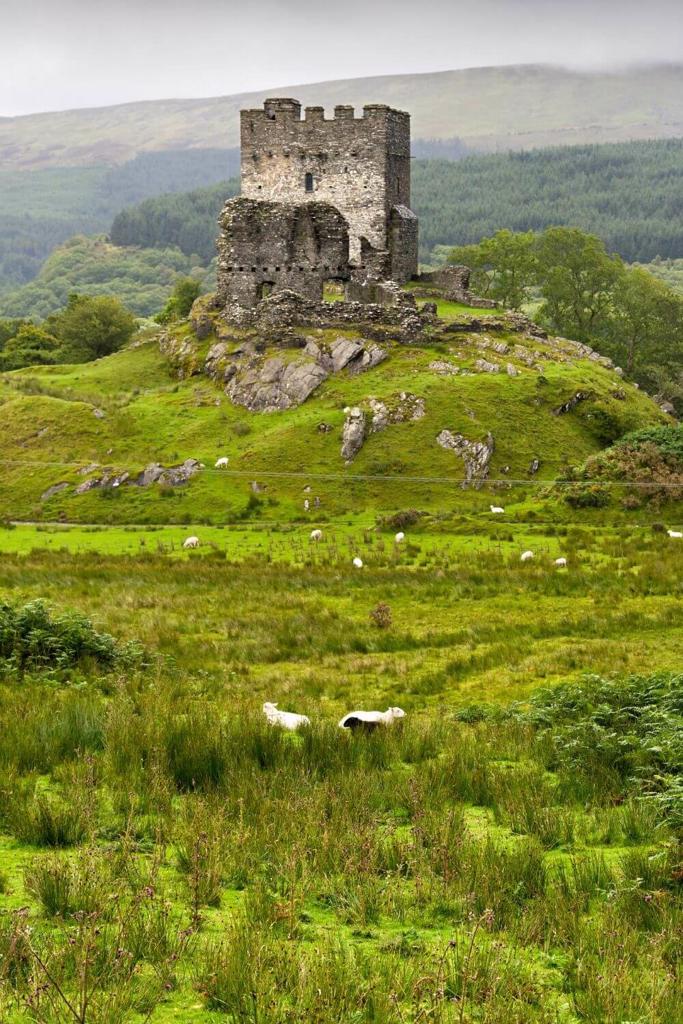 Built strategically on the road from Conwy to Criccieth as a guard outpost, it is one of a small number of castles that are directly associated with the Welsh princes as Dolwyddelan was one of their strongholds in the depths of Snowdonia. Initially made with just one tower, a second tower was built in the late 13th century and a third floor was added to the original two during further renovations in the 15the century.
The castle stands on a rocky outcrop in the middle of a rugged mountainscape, where the castle ruins are overlooked by the great square-towered keep, a 19th-century addition by a local lord. You can view the castle from outside throughout the year, and with its close proximity to Blaenau Ffestiniog, you could combine a visit with other things to do in Snowdonia such as Zip World or Snowdonia Alpacas.
Address: Dolwyddelan Castle, A470, Dolwyddelan, LL25 0JD
Caernarfon Castle
Part of the World Heritage Site made up of Edward I's castles, Caernarfon Castle, Snowdonia is widely considered one of the UK's greatest builds of the Middle Ages. It is the largest castle in Snowdonia, is incredibly well preserved, and is easily recognised by its polygonal towers.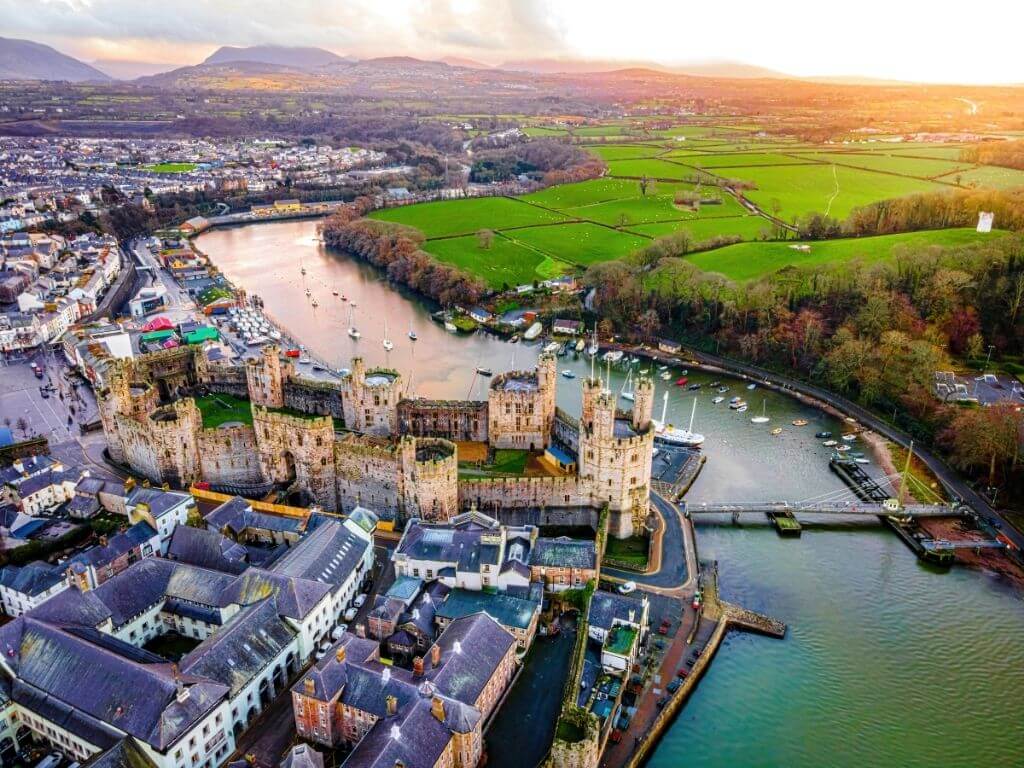 This medieval castle, built in the late 11th century, was designed by Edward I to intimidate his new Welsh subjects and was the chosen birthplace of his son, Edward II, the first Prince of Wales. Fun fact: Prince Charles was invested here as the Prince of Wales in 1969.
Caernarfon Castle is one of the best places in Snowdonia for fulfilling children's dreams about knights and castles! It's a real-life legend brought to life before your eyes! Let the kids have fun at the castle before enjoying a stroll through the town itself, perhaps stopping somewhere for lunch or an ice cream.
Address: Caernarfon Castle, Castle Ditch, Caernarfon, LL55 2AY
Harlech Castle
Set high on a rocky crag above the coastline of Harlech, this is another of Edward I's chain of castles throughout North Wales (along with Conwy, Caernarfon, and Beaumaris).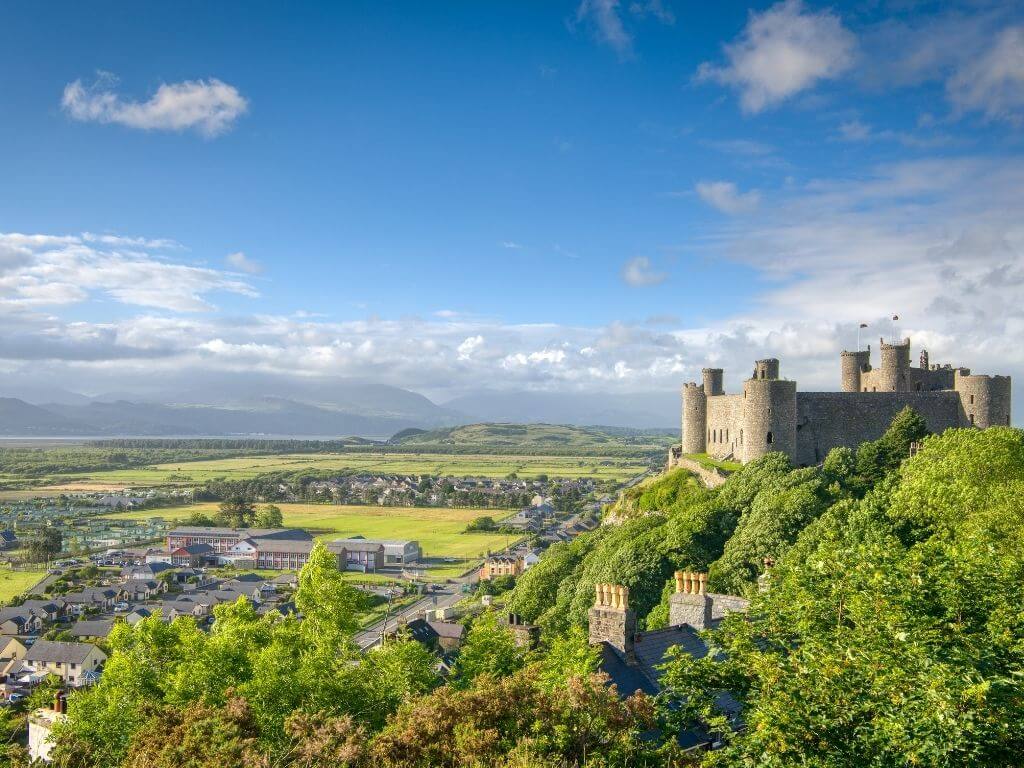 Built in the late 13th century, this medieval fortification stands looking over the Irish Sea, with the sea coming much closer to the castle walls centuries ago.
Harlech Castle, Snowdonia was considered incredibly difficult to penetrate due to its 'walls within walls' design. It was said to have been the stronghold in the longest siege in British history (during the War of the Roses from 1461-1468) and is where the famed song 'Men of Harlech' was born.
It remains a striking ruined castle with much of the outside walls remaining. You can access the castle via the floating footbridge and walk around the ruined internal structures, imagining what life would have been like hundreds of years ago.
If you are visiting Snowdonia National Park, or the towns of Porthmadog, Portmeirion or Barmouth, then make time to visit one of the best castles in North Wales.
Address: Harlech Castle, Harlech, LL46 2YH
Dolbadarn Castle
Dolbadarn Castle, Wales sits high above Llyn Padarn and overlooks the Llanberis Pass, one of the main passages through Snowdonia. Dolbadarn's history is packed with tales of sibling strife, with Llywelyn ap Gruffudd detaining his brother Owain Goch in the castle tower for 22 years!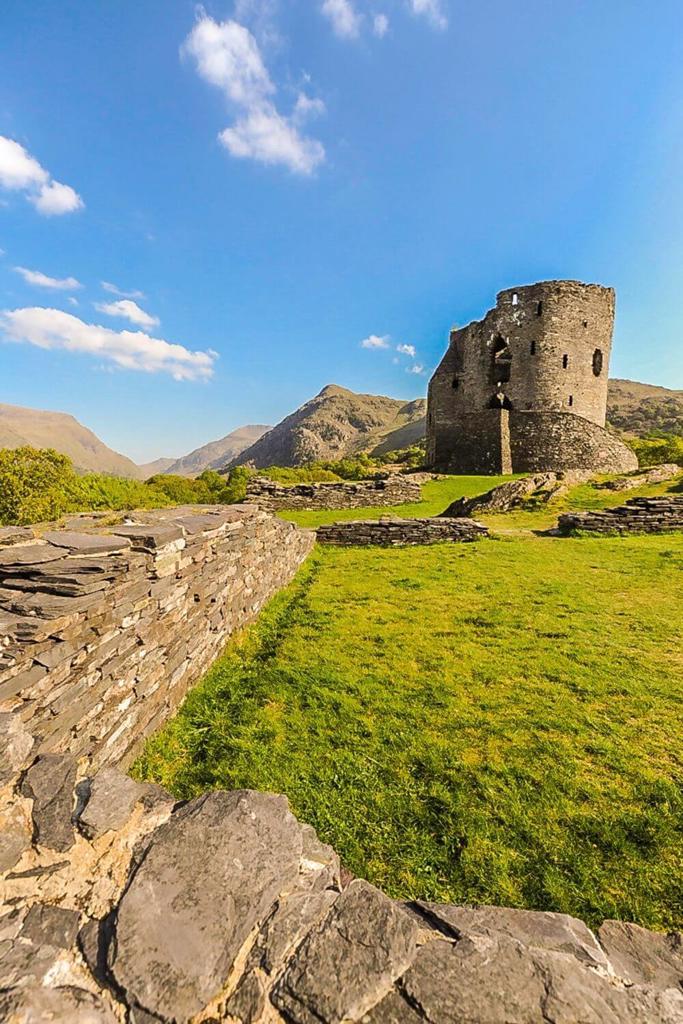 Dolbadarn Castle became dormant once Edward I had conquered Snowdonia. It was picked apart and materials were removed and transported to be used in the construction of Caernarfon Castle. It does, however, hold the title of being the best example of a Welsh round tower that is still standing.
Built by Llywelyn the Great in the early 13th century, this medieval castle boasts a large stone keep, the outlines of towers, and a great hall to explore.
Although it is a small, ruined castle, it is still worth visiting if you are going to be in or passing through Llanberis. Other things to do nearby include the Ceunant Mawr Waterfall, Llanberis Lake railway, and Padarn Country Park.
Address: Dolbadarn Castle, A4086, Caernarfon, LL55 4UB
Other castles in Snowdonia to visit with kids
All of these castles and more, make up some of the most famous attractions of Snowdonia and should be a key part of your plans when exploring North Wales. Here are a few extras to add to your list:
Castell Carndochan: near Bala Lake (Llyn Tegid) in Gwynedd it is a ruined castle from the early 13th century, possibly another of Edward I's chain of castles.
Cymer Abbey: was the centre of a small Cistercian community near Dolgellau, Gwynedd.
Criccieth Castle (pictured below): the recognisable figurehead of the town of Criccieth, the castle sits atop the headland looking over the two bays that make up Criccieth's coastline.
Castell y Bere: a ruined castle set along a rocky outcrop at the base of Cader Idris, not far from Tywyn.
Tomen y Mur: constructed in AD78 by the Romans, it started its life as a small fort overlooking the Trawsfynydd basin.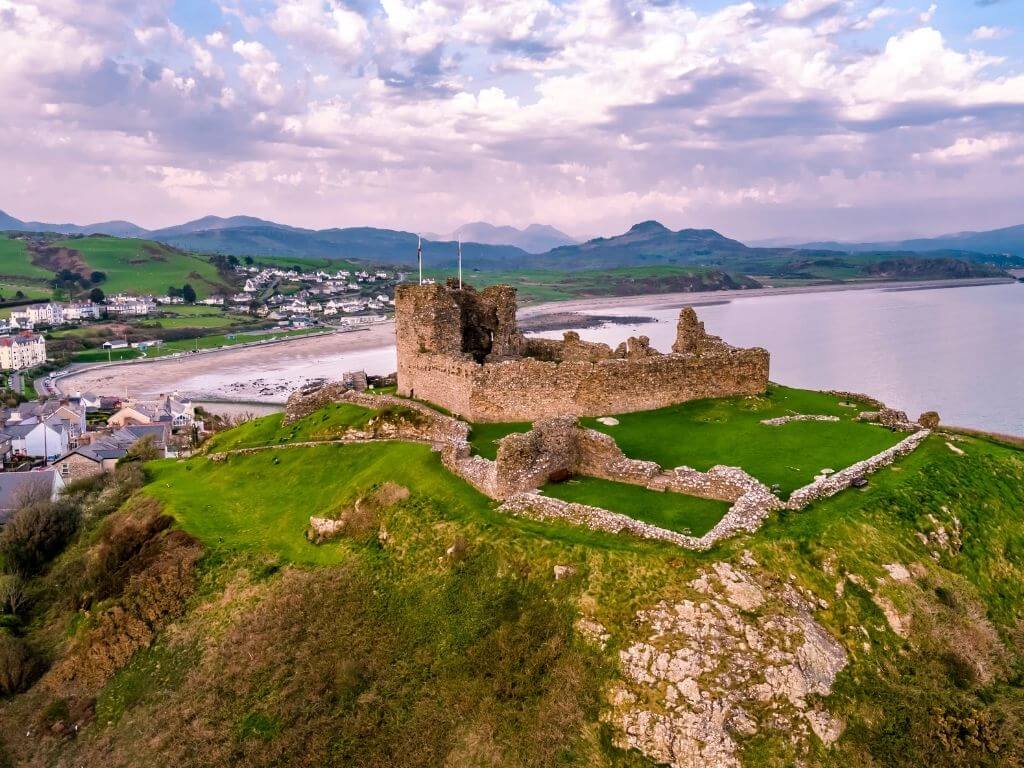 Cadw
Conwy, Caernarfon and Harlech castles are among those managed by Cadw (meaning 'keep' or 'protect' in Welsh), the Welsh Government's Historic Protection service. They manage 44 of the 427 castles across Wales, many of which are castles near Snowdonia. 
There are Cadw passes available for families, so it is worth looking at those if you are a frequent visitor or want to explore multiple castle sites. Some Cadw sites also give reduced or free entry to English Heritage, Historic Scotland, and Manx Heritage members.
There are so many things to do in Snowdonia! You could stay by the coast or spend all of your time in the mountains. However, visiting the castles in Snowdonia has to be up there on your bucket list!
Let me know in the comments which castles you've visited – maybe you haven't been since your childhood! I'd love to hear your memories!